What makes a website, landing page, microsite or internet portal a particularly good solution? Why is an app particularly popular? Why is an intranet solution accepted by all employees in the company?
For us, the key to success is clear: user-centered design.
User-centered design is an essential aspect of user experience design and focuses on the needs of the user. Following this principle, we intensively deal with those groups of people whose acceptance determines the success of the (digital) products. We align all measures with these needs and thus form the basis for a positive user experience.
This is the true measure of the success of our work.
What does user experience mean and where are the differences to usability?
Roughly speaking, UX is about the experience we all have every day when interacting with services, physical products or even digital applications. And it is not only the perceptions during immediate use that contribute to the user experience. The expectations one has of the product beforehand, when calling the hotline, or before installing an app, are also part of the user experience. The feeling left behind after use and the personal conclusion are also part of the user experience.
UX is individual
The personal user experience is a complex entity that is constructed, on the one hand, over a longer period of time and, on the other hand, through a multitude of impressions and emotions. It is important to understand that user experience is always individual, but can be influenced at various contact points and through certain measures - starting with an understanding of the user and the context of use.
Banking app as a UX example
Take, for example, a digitally-savvy user group and a banking app. There were and are many solutions that use complex structures from a corporate perspective and technical terms to design the service around banking. Once you have had this experience, you go into using a new app with a bias.
If, however, the users were placed in the centre during the development, the app can possibly convince with intuitive navigation (user guidance) and clear language. Negative expectations are thus refuted and a good prerequisite for a positive user experience is created.
If this app then also runs smoothly, tasks can be completed in a few steps at the requested time (context of use & usability), a feeling of security and trust is conveyed (user needs and brand identity) and confirming feedback is given upon completion, the balance between expected and actual use will probably be rated as a positive user experience.
For a digitally-averse user group, on the other hand, this app may be designed to be user-friendly, but will still not be able to convince them to the same extent. They would therefore not be the target group of the app project. Here, personal contact at the bank counter would probably be the better way to optimise the satisfaction of this user group.
User experience consists of many small parts
User experience can therefore be understood as a complex puzzle made up of many pieces. While the pieces of the puzzle are the same for everyone, their weighting is very individual. It is based on factors such as demographics, experience or personality. This makes it all the more important to engage with the users and their needs in order to identify the right adjusting screws within the framework of UX design. This way, the success of the product is not left to chance.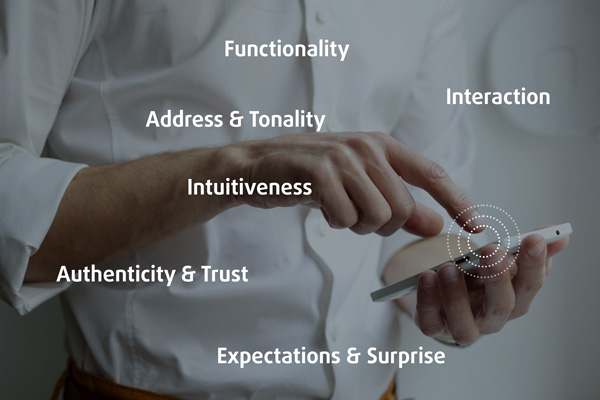 What is the difference between usability and user experience?
While user experience is a broad term for all aspects of using a product or an application, usability can be more narrowly defined. It is part of the user experience. Usability means the immediate interaction with the (digital) product and can be translated as user-friendliness.
Usability using the example of a holiday portal
If, for example, I visit a website where I want to find out about travel destinations for my next summer holiday and quickly get an overview of potential destinations, country-specific features, climate data and helpful tips - all with just a few clicks and thanks to clear navigation without any detours, I can assume that this website has been designed in a user-friendly way, that its usability has been actively designed.
Usability promotes effectiveness
Usability ensures that a product can be used intuitively. It promotes effectiveness and prevents errors in use.
In short: everything works as it should. You get from A to B quickly and no question marks remain on your forehead.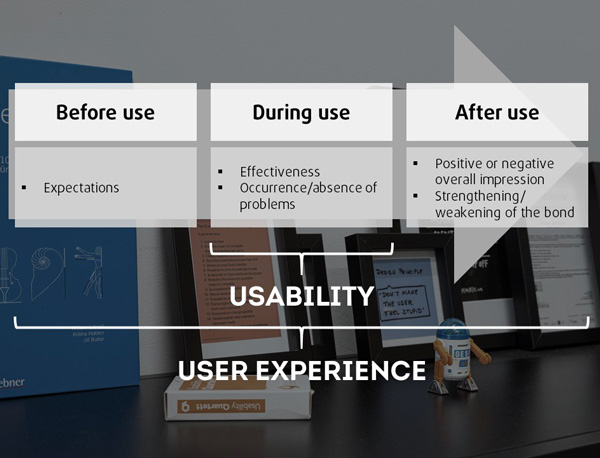 The effects of good UX design
Reduced bounces
More informed users
Improved conversion rate
Increased commercial success
Strengthened (digital) brand awareness
Increased customer loyalty
More satisfied customers
UX consulting for easy-to-understand processes, target group-oriented solutions and strengthened digital contact points.
AKNW

Architektenkammer Nordrhein-Westfalen

Modern web architecture

Consulting

Conception

UX Design

TYPO3

FWTM

Intranet conception

Consulting

Conception

Intranet

Intrexx

SWB Bus und Bahn

SWB Bus und Bahn

Digital service of the Bonn mobile makers

TYPO3

Consulting

Conception

UX Design
How is the user experience of your website visitors? Time for a user survey or a relaunch? Let's talk about it.
Your contact: Oliver Schirok (UX director, Münster site manager)
Work steps, methods, tools
---
1 | Joint strategy development
Strategy workshops, user research, analysis and content audit, customer journey mapping
---
2 | User experience design
Design thinking, design workshops, usability evaluation, personas, wireframes, card sorting
---
3 | Visual design and frontend design
Moodboards, design systems, illustrations, mockups, wireframes, prototyping
---
4 | Development & programming
Boilerplate, bootstrap, PHP, GIT, Vue.js, Solr, TYPO3, Craft CMS, WordPress
---
5 | Online marketing
Traffic reporting, SEO, social ads, content and ad creation, XOVI, Yoast, Google Search Console, content marketing
---
6 | Maintenance & support
PPW Managed Cloud Hosting, CMS trainings, jour fixe, software maintenance, analytics reporting